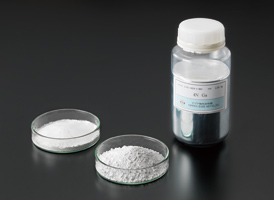 Atomic : 31
Mass Num : 69.72
specific gravity : 5.91
a melting point : 29.8℃
Application
Gallium is used for semi-conductor compound material in the forms like Ga/As and Ga/P and also used for LD (laser diode), LED, low-melting point alloys.
Ga2O3 is known for its wide gap energy and its the application is expanding to IGZO (In/Ga/Zn Oxide) TFT, fluorescent substance, substrate for light emitting devices and so forth. Various types of Ga2O3 in shape and purity are available to meet different demands by users.
品名
FORMULA
GRADE
APPLICATION
FORM
Gallium
Ga
4N,5N
Compound semiconductor,
Electronic material,
CIG Solar Cells
Liquid (in 1kg, 2.5kg or 10kg bottle)
Ga2O3
Application
To respond to various applications requirements, NRM has developed and released different types of Ga2O3.
Needle shaped type
| | | |
| --- | --- | --- |
| | | Ga2O3 manufactured by NRM offers low content of impurities, thanks to the severe quality control system. Especially low Si content is indispensable for advanced electronics material. NRM assures stable supply of Ga2O3 with lower impurity level including the Si. |
Fine powder type
| | | |
| --- | --- | --- |
| | | This globular shaped fine powder Ga2O3 features narrow distribution of powder size (approx. in the range of 0.5 to 1.0 μm), higher density and lower sintering temperature, which best suits for high quality target production. |